Deadline
August 13th 2021, 1700 HRS GMT
Duration
1 year with a possibility of renewal
Data Quality and Assurance Officer (GB)
About Shelter for Life International
SFL is an international non-governmental organization, with its headquarters in Minnetonka, Minnesota, United States of America, and has been working in developing countries around the world since 1979. SFL works in more than fifteen countries around the world, guided by its philosophy of "restoring life by rebuilding communities". SFL provides emergency services in case of disaster or conflict, undertakes infrastructure reconstruction activities after such events, and provides micro finance products to support economic growth. SFL has helped millions of people by building or rehabilitating infrastructure as varied as temporary shelters, production roads, irrigation systems, schools, market infrastructure, etc. The NGO has also provided significant funding through thousands of micro-loans to help ease access to finance urgent needed funds to grow smallholders' production and business activities.
LIFFT-Cashew Project
Under USDA/FAS Food For Progress (FFPr) program, Shelter For Life (SFL) is implementing a six-year project called "Linking Infrastructure, Finance and Farms to Cashew" (LIFFT-Cashew) in Senegal, the Gambia, and Guinea-Bissau (SeGaBi) with the goal to develop and upgrade value chain linkages necessary to support an integrated, regional trade network for the cashew value chain.
The LIFFT-Cashew Project aims to achieve three main objectives: 
Increase or maintain the quality of Raw Cashew Nuts (RCN)

Increase the processing of RCN within the SeGaBi region

Promote the collective sales of RCN
POSITION SUMMARY
SFL seeks an experienced professional for the position of Data Quality Officer, to be based in Guinea-Bissau.
Data Quality and Assurance Officer will be responsible for quality and integrity of data especially focused on digital data in Guinea-Bissau and Gambia. You will develop the design and execution of data quality processes, including the implementation of a data audits, data quality and assurance tools and processes across the organization for all internal and external stakeholders. Following the implementation of the data quality processes, will work on its ongoing QA operations and be responsible for the quality and integrity of the digital data across processes and systems.
SCOPE OF WORK
In close consultation with the BIM and the COP/Country Director, the DQO officer will:
Requirement gathering for new or updated component business processes and report submission to BIM for consideration or development.

Provide field support to field data collection personnel and LIFFT-on the LIFFT-UP platform and troubleshoot their field data collection devices.

Develop, maintain, and test data collection forms

Data entry and cleaning including creation, updating and deletion of component metrics data in accordance to the component indicators.

Define KPIs and dashboards to track data quality for all components

Resolve operational issues related to data quality and ensure it will get addressed on time and will not occur again

Work closely with all components and define data quality measures

Implement and test data quality rules and detect data quality issues

Develop and manage data quality dashboards and its distribution and proactively monitor the execution of the data quality processes and communicate the results

Unlocking user accounts or resetting passwords due to user forgetfulness.

Helping users develop or fine-tune reports and dashboards so they yield meaningful metrics.

Run and store the weekly snapshot (data export) of the system data and attachments, including all history tables. Keep the snapshots for at least 90 days

LIFFT-UP in person and teleconferencing training user training

Develop and maintain and update user training guides

Support the Administration Department with Network and IT support

Monthly Data Quality and Insight report.

Other duties and responsibilities as required by direct supervisor.
QUALIFICATIONS
BSc degree in Computer Science or related field.

Proven Data Management Skills including Data Entry and Cleaning

2+ years of experience in a humanitarian organization, including one year of international experience.

Proven Network administration experience.

Knowledge of diagnostic practices and troubleshooting techniques in the servicing and repair of computers and peripherals.

Fluency in Portuguese and English.

A minimum of 12+ months commitment to live and work in Guinea-Bissau is required.

Is comfortable with frequent travel, particularly within the SeGaBi region.
Added Advantage:
Knowledge of network management tools and equipment (routers, servers, switches, firewalls, laptops, tablets, and various operating systems).

Previous experience Microsoft Office 365 and/or Salesforce.
HOW TO APPLY
Please send your CV/resume and cover letter to segabi.jobs@shelter.org with the subject line: "DQO 2021 JOBID-A902GB". CLICK LINK OR SCAN QR CODE AND FILL FORM AFTER SENDING EMAIL. Applications must be in English. Please include your name in the title of all attached documents. In your resume, the work experience should be presented chronologically and should contain sufficient details to enable the technical review team to evaluate the qualifications and experience. The CV/resume should include the name, telephone number, and email of at least two references who do not work for the candidate's current employee.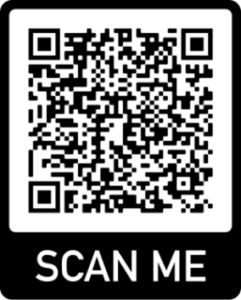 Women's applicants are strongly encouraged.