Food for Progress: LIFFT-Cashew Project
Food for Progress is collaborating with Shelter For Life (SFL) to implement the Linking Infrastructure, Finance, and Farms to Cashew (LIFFT-Cashew) in Senegal, The Gambia, and
Guinea-Bissau (SeGaBi). The initial six-year project from 2017-to 2023 was recently awarded a merit-based extension to 2025. The project is developing a regional and integrated Cashew Value
Chain by increasing cashew production, processing, and trade in local and international markets. This is being accomplished through the construction of durable trade infrastructure, increased
access to financial services, smallholder farmer organization, and training to increase production and bargaining power and building on the capacity of local processors to add value to cashew
kernel in West Africa.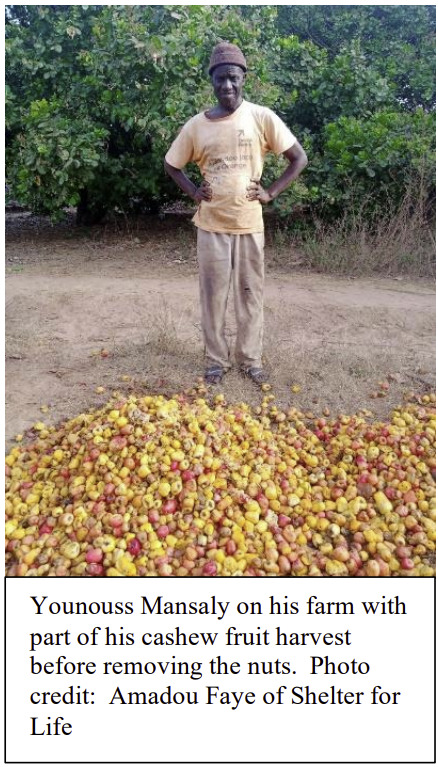 Baluh-na cooperative is one of twenty-four farmer cooperatives the project engages with to build capacity. Younouss Mansaly is the current president of the cooperative in Senegal. Under his leadership over the last three years and project support, Baluh-na became one of the strongest cooperative societies in Senegal, with 500 members and a network of over 3,000 farmers.
Mr. Mansaly stated that "through the LIFFT-Cashew project, we, the producers of Francounda, no longer accept bags of rice from intermediaries in exchange for raw cashew nut (RCN). Instead, we sign win-win contracts directly with international exporters. As a result, Baluh-na started with 1,117 MT of RCN sales in 2020, 849 MT in 2021, and has now grown five-fold to 5,051 MT in 2022!" In addition, every year, more farmers register as members, and the cooperative is engaging in group sales to increase pricing power and earn more significant profits for farmers.
In 2022 alone, project partner cooperatives in SeGaBi sold 79,752 MT of RCN, which helped farmers and farms generate $71,733,016 in sales. In the Access to Finance component of the project, through public-private partnerships between cooperatives, financial institutions, and the Warehouse Receipt System Regulation Organ of Senegal (ORSRE), more than $840,000 in financing for cooperatives was unlocked. An additional $64 million in prefinancing from individual exporters or trading companies was leveraged. The project assisted nine cooperatives in renting four storages and using four of their own rehabilitated by the project to join the Warehouse Receipt System (WRS) program. A total of 6,645 MT of RCN was stored, allowing cooperatives and their members to benefit from traders and exporters selling directly through the system. In 2022 the Baluh-na cooperative stored their RCN through the innovative Warehouse Receipt System (WRS), which allowed them to use the RCN as collateral
to access 34 million FCFA (~$60,000) in loans through a microfinance institution. The project facilitated face-to-face and online B2B events to link cooperatives with local and
international buyers.
US businesses such as Red River Foods and European-based Tradin Organic and Nuts2 have participated and visited the region. As a result, they could compete and export
Younouss Mansaly on his farm with part of his cashew fruit harvest before removing the nuts.
RCN and processed cashew nuts to the region, Europe, and the United States. Since 2020, 144 commercial supply contracts have been signed,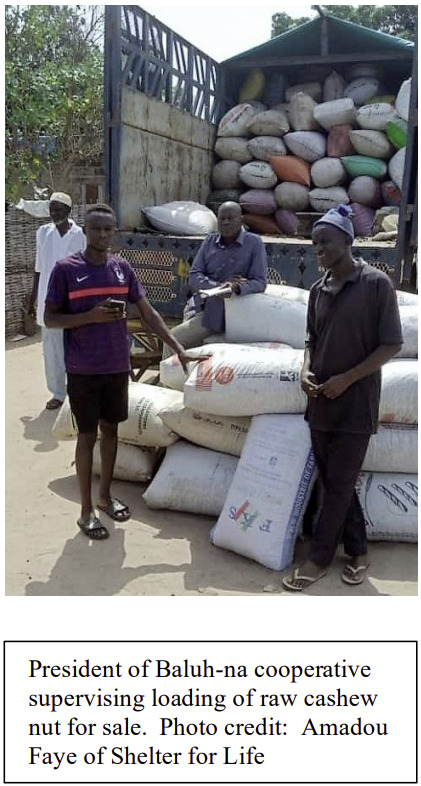 resulting in 122,397 MT of RCN in sales for a value of $105.9 million. The business model for farmer cooperatives in the three countries is to foster partnerships with all stakeholders, generate profit, and establish market relations. SeGaBi cooperatives invested their own financial and other resources as partners and co-investors in the project to maximize the impact of USDA funding. Between 2020 to 2022, partner cooperatives, like Baluh-na in Senegal, The Gambia, and GuineaBissau, leveraged approximately $150,000 in cash and in-kind investment toward their agriculture and storage rehabilitation/construction activities. The Baluh-na cooperative is rehabilitating an 840 m3 storage that will store 200 MT of RCN in the next 2023 season. To date, the project has rehabilitated or constructed 15,564 m3 of RCN storage warehouses and is on track to complete 30,398 m3 in 2023. In addition, the project has linked thousands of rural farmers to markets by completing 136 km of agriculture feeder roads involving over 4,600 cash for workers.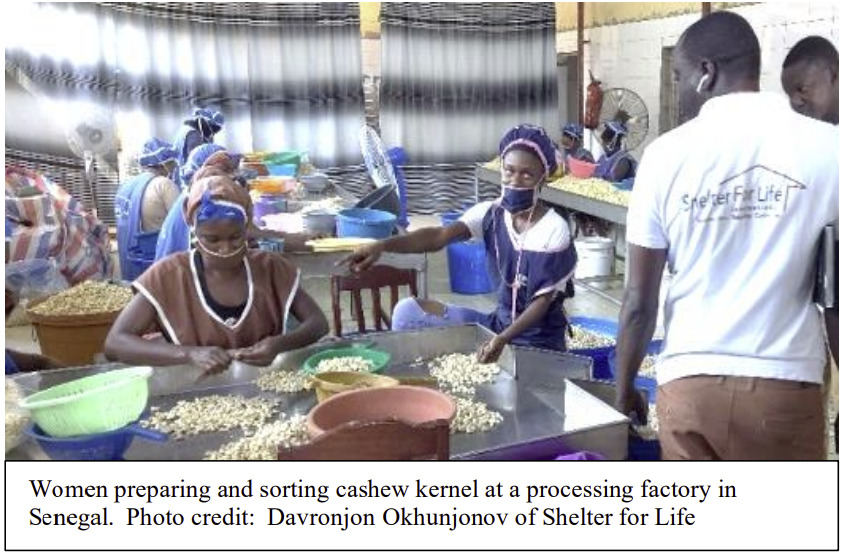 For Baluh-na, additional private support was leveraged through COPEOL, a trading partner of the Tradin Organic company of the Netherlands. Facilitated by the project, a contract was established that enabled the cooperative to receive two tricycles worth about $5,000 and two threshers worth about $6,500. In the same way, the cooperative produced and sold, in return, 99 MT of organic peanuts.
To date, LIFFT-Cashew trained 20,946 farmers on Good Agricultural Practices (GAP) such as correct pruning, spacing, intercropping, and post-harvest techniques. As a result, 15,686 farmers have applied improved management
practices or technologies on over 20,000 hectares of cashew plantations. In addition, the project works to improve local cashew variety productivity and quality by working with cashew nurseries.
Since 2020 these nurseries have produced over 98,000 seedlings used in agroforestry and reforestation of new plantations and to renew old, non-productive ones. The SeGaBi region is known for its high-quality nuts and the potential for organic production. The project assists processing companies in obtaining organic and industry food safety certifications to open their markets to US buyers. In total, 6,750 farmers were trained in organic production, and 1,875 became certified in organic and have been linked with a local processing company that purchased their nuts. The project's goal is to certify at least 6,000 farmers in the next two years, further building the capacity of processing companies to sell to the US market.
Photo credit: Amadou Faye of Shelter for Life