Daouda CAMARA is a cashew nut producer in the village of Ouonck, department of Bignona, region of Ziguinchor in Senegal. He is a member of the AJAAC LUKAAL cooperative.
Daouda is 52 years old and has obtained a formal education with a certificate, specializing in literacy. He is married and has two sons, one is a mason and the other is a student. Daouda is the departmental supervisor of literacy in Bignona, he is also a technical advisor to the Spiruline program to fight against child malnutrition in the commune of Ouonck.
Since 2020, Shelter For Life (SFL) has been working with the AJAC LUKAAL cooperative under the LIFFT-Cashew project to address the challenges cashew farmers face in the value chain. DAOUDA CAMARA was selected as the lead producer and his field was chosen as a demonstration plot, where hands-on training on Good Agricultural Practices (GAP) would be conducted. The GAPs that we were taught and are now teaching others are pruning and thinning of diseased, old, unproductive, and densely planted trees to achieve the recommended spacing of 10 m by 10 m for maximum productivity of the farm. The demonstration farm is ¼ hectare in size, and a ¼ hectare control plot was also established to compare traditional and modern cashew production techniques. SFL, through its cooperative grant mechanism, also provided three chainsaws to the cooperative to facilitate pruning and thinning.
After two years of campaigning, the results obtained on the demonstration plot motivated Daouda to correct the density for the rest of his 5 ha plot. He even hired an operator to do the pruning. After the pruning and thinning operations, I harvested a considerable amount of wood. I sold over a hundred bags of charcoal for $500 and used the rest as firewood for the family and to give to relatives. In terms of yield, I saw an earlier bloom and a longer harvest period, which allowed me to harvest 2,300 kg of raw nuts from the 5 hectares.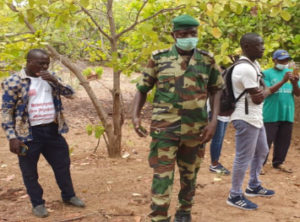 I have an additional income of 1,210,000 CFA, or $2,000. This allowed me to pay the guarantee of 590,000 CFA for the financing (fence and water supply for one hectare) of the DER/FJ, to pay for 1 Ton of rice, 1 Ton of cement to fence my house. I also had the honor of receiving a visit from the Ziguinchor Water and Forestry Inspector, the USDA delegation and US Senators, the US Ambassador, and others who appreciated my cashew farm and I was very happy.
For this beginning of the campaign, I have already harvested 1 Ton of RCN
In this regard, I thank SFL and USDA for these innovations and for changing our living condition and our mentality on how we grow cashew.