Last update: November 14, 2023
Market Overview
The global Raw Cashew market size was valued at USD Million in 2023 and will reach USD Million in 2030, with a CAGR of Percent during 2023-2030. The Raw Cashew market report covers sufficient and comprehensive data on market introduction, segmentations, status and trends, opportunities and challenges, industry chain, competitive analysis, company profiles, and trade statistics, etc. It provides in-depth and all-scale analysis of each segment of types, applications, players, 5 major regions and sub division of major countries, and sometimes end user, channel, technology, as well as other information individually tailored before order confirmation.
Mozambique, Demand is increasing and prices are rising slightly in the north of the country. Reference price: 35 MZN/kg. Farm-gate price : 25 to 38 MZN/kg (0.4 to 0.6 USD/kg)
Tanzania, Around 165,000 Metric Tons sold to date. Auction prices down slightly as quality declines on the latest stocks delivered: 1700 to 1900 TZS/kg (0.68 to 0.76 USD/kg)
In Madagascar, The season continues with limited demand and historically low prices. Farm-gate price: 850 to 1050 MGA/kg (0.19 to 0.23 USD/kg).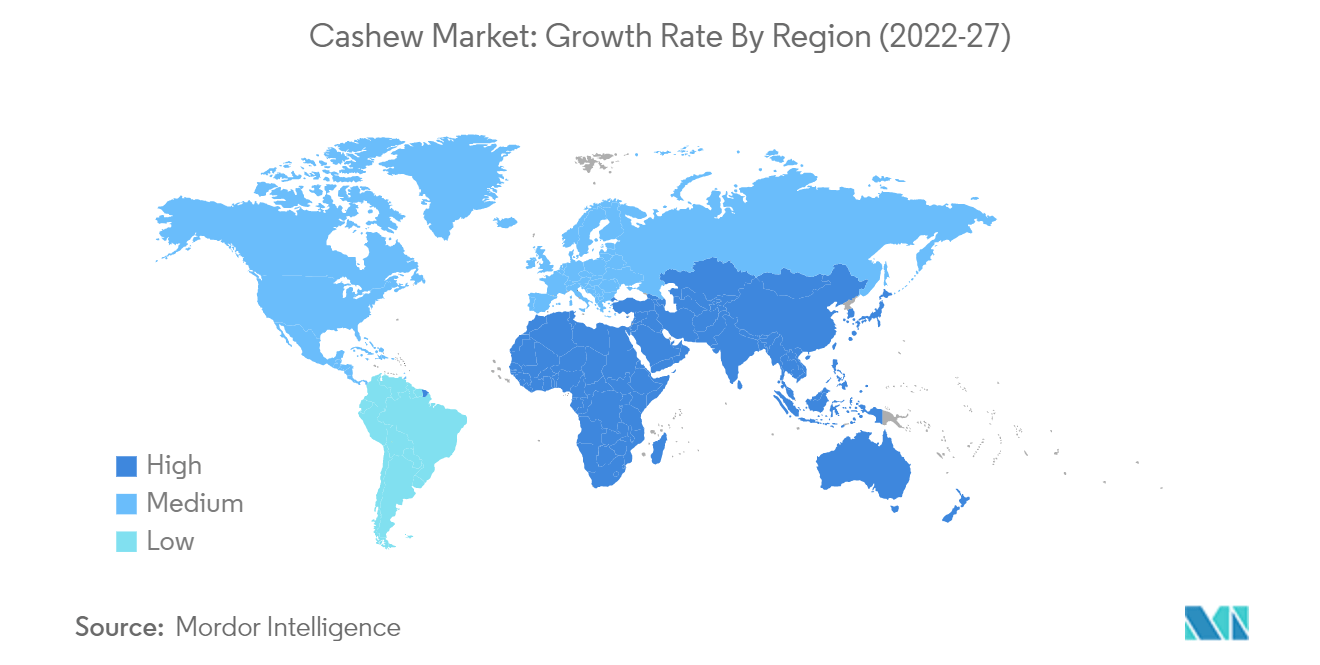 African Market
The cashew nut market in Madagascar
In Madagascar, the local market is still going strong. On the market, local collectors are still buying quantities of cashew nuts. Producers are releasing their nuts in small quantities because of the very low market price, hoping for a price increase until the end of the season. At present, around 1,000 Metric tons of raw cashew nuts are ready for export by the only active exporter.
The local market price remains unchanged at 850 MGA/kg in the Diana and Sofia regions. By contrast, purchases from producers in the Boeny region began at 1050 MGA/kg. Prices in Diego are around 1,600 MGA/kg. But artisanal processors buy nuts at 1400 MGA/kg in the smaller towns of the three regions.
The cashew nut market in Mozambique
In Mozambique, the campaign is officially launched in the three northern production provinces of Cabo Delgado, Niassa and Nampula. In all three provinces, prices are stable or slightly up on last week. The minimum price of MZN 25/kg tends to be observed in the most isolated production zones, while in more accessible areas prices are fluctuating between MZN 30 and MZN 35/kg, depending on quality, with even one sale observed at MZN 38/kg for good quality nuts in large quantities. More and more representatives of Indian and Vietnamese importers are arriving in Mozambique to check stocks in stores. This confirms what we thought last week: competition is setting in, so prices could rise slightly in the coming weeks. In Zambezia, marketing has not yet been officially launched (it will be on November 24). Small intra-village sales have already been taking place over the past two weeks, with prices now varying between MZN 25 and MZN 31/kg. Producers would have liked to launch the campaign at the same time as the neighboring province of Nampula.
The cashew nut market in Tanzania
In Tanzania, the auction was even more intense than last week, with more than 65,000 Metric Tons sold. Total sales rose to 164,800 Metric Tons by November 17, 2023. The price range has shortened and has been rather bearish, notably because the quality of the latest stocks delivered is declining. Recent auction prices have varied between 1,700 and 1,900 TZS/kg. The cashew harvest is still underway, but the biggest part of the crop has already been sold. Some farmer cooperatives have also refused to sell because prices are considered too low. Exports of raw cashew nuts began on November 16 as planned, with around 8,000 Metric Tons already shipped to date. Raw cashew nuts from Tanzania (outturn 52-53 NC 180-190) still fetch around 1,300 USD/t CIF Asia, but lower grades (outturn 49-50 NC 190) sell for between 1,225 and 1,275 USD/t CIF Asia.
The cashew nut market in Guinea Bissau
In Guinea-Bissau, exports are interrupted this week due to works on the access road to the port. To date, 160,000 Metric tons have been exported out of 163,000 Metric tons authorized for export to date. Buying seems to have come to an end, due to a lack of stocks for sale both in the production areas and at the port. Contrary to last year, it seems that the campaign could end with very little residual stock, which is excellent news for all players in the sector.
Source N'Kalô newsletters at www.nkalo.com & imarcgroup.com
Cashew Market Trends:
Significant growth in the food and beverage industry across the globe is creating a positive outlook for the market. Cashews are widely used in the preparation of cheesecake, cookies, salads, chicken, noodles, and soup. In line with this, the rising consumption of healthy snacks is favoring the market growth as cashews are extensively used in energy bars, mussels, spreads, and organic bars for their high nutritional level. Moreover, the introduction of various product variants, such as the launch of flavors, including chili lime, sweet, and spicy cashew nuts, are providing a considerable boost to the market growth. Additionally, the increasing product demand in the cosmetic industry to manufacture creams and oils to prevent hair loss, enhance skin glow, and promote the growth of new skin cells is positively impacting the market growth. Apart from this, changing lifestyles and rising disposable income are anticipated to drive the market growth.
Send your messages via below form
SFL's LIFFT-Cashew project is here to create a durable and strong cashew value chain in Senegal, Guinea-Bissau and the Gambia. Contact us for more information.
International Market
On the international market, demand for cashew kernels remains strong, while supply seems to be declining. While price ranges remain stable, offers at the lower end of the range are becoming increasingly rare. For the time being, only the most soughtafter Vietnamese processors (BRC factories) have begun to offer prices above the current ranges, but for the time being there have been few contracts signed at these price levels.
Changing market sentiment and falling stocks are beginning to impact the raw cashew market, to which more and more importers are coming back, notably to purchase the latest stocks from Guinea-Bissau, and new crop from Tanzania and Mozambique. For the time being, raw nut prices are also holding steady.
Imports from North America (USA and Canada) have continued to accelerate in recent months, with monthly figures well above those for the same months in 2022, but still well below those for 2021. All in all, over the first 3 quarters, North America's imports were well below those of 2021, and slightly lower than in 2022, even if the deficit is gradually being reduced.
The European market, meanwhile, appears to be maintaining an increasingly rapid growth trend, with imports accelerating sharply in the third quarter of 2023, particularly in September, a month in which the European Union set an all-time record with 16,957 Metric Tons imported (compared with 14,248 Metric Tons in September 2022), a monthly pace never before achieved by the common market.
Last week we pointed out that China had become a more important market than the USA for cashew kernel exports from Vietnam. This week, we note that the European Union has also become a consumer market for cashew nuts, weighing more than the USA on the world market!
These new statistics thus continue to confirm a strong restructuring of the international cashew market with :
– Côte d'Ivoire becomes a bigger cashew kernel exporter than India!
– The European Union and China are becoming bigger markets than the United States!
The reduction in cashew kernel supply to the lower end of the price ranges in recent weeks, and the slight rise in raw nut prices in recent days, seem to confirm that the market is beginning to take account of these major changes and the rapid reduction in cashew nut stocks everywhere. Our hitherto stable to very slightly bullish sentiment is therefore moving towards a clearly bullish view for the end of 2023 and the beginning of 2024.
In this context, we recommend :
– Processors: limit long-term commitments (forward contracts) to the strict minimum. The increase in demand for this type of contract reflects a change in buyer sentiment, which should rapidly be reflected in prices;
– East African producers: wait several more weeks for demand and competition to increase sufficiently before delivering their wholesale production;
SeGaBi Market
In Guinea-Bissau, raw cashew export declarations reached around 153,000 MT, compared with 148,000 Metric Ton last week and 150,000 in 2022 at the same time.
In Bissau, throughout the week, prices continued to fluctuate between 300 and 305 FCFA/Kg for outturn 50 – 51, and between 280 and 290 FCFA/Kg for outturn 48-49, as last week. At the same time in 2022, prices were fluctuating around 380 FCFA/Kg at the port of Bissau.
In production areas, residual stocks are now very scarce, and purchase prices to farmers are fluctuating between 150 and 250 FCFA/kg.
In Guinea-Bissau, cashew nut exports continue to be the main activity on the cashew market, despite some insignificant purchases for processing factories. Prices at the port of Bissau have varied according to quality, and according to those involved in the sector, they have fallen on average to around 250 FCFA/kg, compared with 285 FCFA/kg last week, with average outturns now around 49.
According to the Ministry of Cashew, around 162,000 MT have been authorized for export, compared with 155,000 MT last week. To date, some 157,000 MT have actually been exported.
In Senegal, exports of raw cashew nuts reached 150,000 Metric Ton at the end of August. In Gambia, they reached 25,000 Metric Ton.
In Senegal, 2,238 farms have been mapped, 3,687 in Guinea-Bissau, and 1,800 in Gambia. The purpose of this project is to map the plantations of farmers who have been trained in organic certification. This information will speed up the organic certification process, leading to greater financial gains for processors, cooperatives and international export partners. It also provides an overview of the cashew fields of producers in partnership with SFL in the SeGaBi zone.
Cooperatives provide information about how many tons of RCN is available in their storage. Please contact them directly using indicated phone numbers (WhatsApp).
Guinea Bissau
| | | | | | | | | | |
| --- | --- | --- | --- | --- | --- | --- | --- | --- | --- |
| | | | | | | | | | |
| | | | | | | | cooperativabuwendena@gmail.com | | |
| | | | | | | | mango_augusto@hotmail.com | | |
| | | | | | | | cjammansaba2014@gmail.com | | |
| | | | | | | | cooperativaopro2020@gmail.com | | |
| | | | | | | | quecuto-augusto@hotmail.com | | |
| | | | | | | | | | |
| | | | | | | | | | |
| | | | | | | | cooperativalampadadecampo@gmail.com | | |
| | | | | | | | | | |
| | | | | | | | | | |
| | | | | | | | | | |
| | | | | | | | | | |
| | | | | | | | | | |
| | | | | | | | | | |
Cooperatives provide information about how many tons of RCN is available in their storage. Please contact them directly using indicated phone numbers (WhatsApp).
The Gambia
| | | | | | | | | | |
| --- | --- | --- | --- | --- | --- | --- | --- | --- | --- |
| | | | | | | | | | |
| | | | | | | | | | |
| | | | | | | | | | |
| | | | | | | | | | |
| | | | | | | | | | |
| | | | | | West District, The Gambia | | | | |
| | | | | | | | | | |
Senegal
| | | | | | | | | | |
| --- | --- | --- | --- | --- | --- | --- | --- | --- | --- |
| | | | | | | | | | |
| | | | | | | | | | |
| | | | | | | | | | |
| | | | | | Simbandi Balante, Senegal | | | | |
| | | | | | | | amadoulaminecisse1960@gmail.com | | |
| | | | | | | | | | |
| | | | | | | | scoopcoumbacara@gmail.com | | |
| | | | | | | | | | |
| | | | | | | | | | |
| | | | | | | | | | |
RCN collection information from 2020 to 2023 and collection forecasts in 2024
| | | | | | | | |
| --- | --- | --- | --- | --- | --- | --- | --- |
| | | | | | | | Percentage of RCN Collected in FY23 |
| | | | | | | | |