Single Cashew Market- Senegal, The Gambia and Guinea-Bissau (SeGaBi)
Cashew production in the SeGaBi dates back to the 20th century. However, despite its long date, the cashew value chain in SeGaBi is still in its infant stage. Initially, cashew was regarded as a reforestation and cover crop to curb desertification in the region. However, cashew has mutated into a cash crop capable of spurring economic growth and transforming the socio-economic development of the most vulnerable group in the society: women and youth. Increasing international market demand in Asia, Europe and America resulted in investment in the cashew value chain in the SeGaBi by development partners such as United States Department of Agriculture (USDA) to the tune of US$57.6Million (Food For Progress (FFPr) initiative, The Gambia River Basin Cashew Value Chain Enhancement Project I & II US$ 14.6 Million and Linking Infrastructure, Finance, Framers to Cashew -LIFFT-Cashew US$43.0 Million). Fortunately, governments in SeGaBI have commenced investing in the cashew sector through an allocation from their national budgets which is a noteworthy policy shift.
Despite this notable amount of investment, the cashew sector in SeGaBi has registered a nascent growth rate compared to other sister countries in West Africa. The SeGaBi cashew sector grew by 3.23% compared to 6.28% for West Africa for 10-year CAGR[1]  from 2011-2019. Processing in SeGaBi is still extremely low. Guinea-Bissau is making headway, yet processes less than 2% of the RCN produced. This slow growth in processing is caused by a conflux of factors: high cost of processing, political instability, and unreliable supply chains, thus spooking investors from investing in the region. This is further exacerbated by the trade restrictions imposed on cashew transportation by land.
However, despite this moderate performance in SeGaBi, all is not lost. There is a magic tweak to the problem of low production and investors' fears of undependable supply chains: the creation of SeGaBi-Single Cashew Market.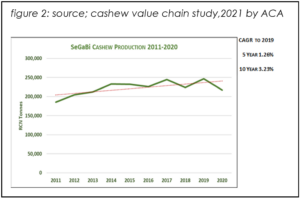 Creating a single cashew market for RCN in the SeGaBi region is vital to realize the synergy effect of inter-state trade instead of competing among member countries. The single cashew market will permit a seamless flow of RCN from farm gates to any economically efficient port at a reduced cost for traders and exporters. Thus, enhancing effective market clearing and efficient pricing mechanisms in the cashew sector. For instance, RCN trade restrictions among the three sister countries has resulted in market gluts experienced in Guinea-Bissau, whereas processors in Senegal and The Gambia are experiencing scarcity. A liberalized market for RCN creates a secured RCN supply line and entices investors to build factories virtually anywhere in the region without the risk of a break in the supply chain. Besides, the SeGaBI region has the opportunity to conduct collective sales even if not collective production. This can be accentuated through collective branding of RCN in SeGaBi, given the high level of quality in the region, which is second to none in West Africa.
With all this potential, are there instruments to permit the creation of SeGaBi-Single Cashew Market? The answers are not far-fetched. The setup of a unified market for SeGaBi would require: legal framework and protocols, policy instruments-cooperative development, warehouse receipt system, and market information and trade support networks.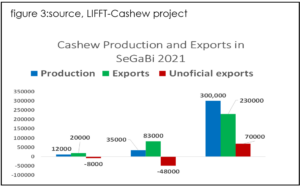 First and foremost, what legal framework is in place that can necessitate the lift of trade restriction in the regions? These instruments include Trade Facilitation Agreement Facility (TFAF), which came into force 22 February 2017 and ratified by SeGaBi member countries (Senegal 24 August 2016, The Gambia 11 July 2017, and Guinea-Bissau 24 October 2019). Aside from the WTO TFAF, we have the Ecowas Trade Liberalization Scheme (ETLS), whose objective is to Liberalize trade by abolishing customs duties levied on imports and exports and the eliminating of non-tariff barriers as well as the removal of quota, quantitative or like restrictions or prohibition and administrative obstacles to trade.
Furthermore, current policy development in SeGaBi can serve as enablers to creating a SeGaBi-Single Cashew Market notably: warehouse receipt system and cooperative development.  Warehouse infrastructure is crucial for improving post-harvest handling and expanding Cashew trade in the region. This warehouse will serve as a point of sale for cooperatives to cashew traders and processing firms in the region. By establishing warehouses, governments are enhancing traceability and reducing post-harvest losses to farmers. The Cooperative movement is another important pillar in developing the SeGaBi Single Cashew market. Over 24 cooperatives are supported by the USDA/LIFFT-Cashew project in the region and have attained good standing in running Cooperative business models to generate profit in conformity OHADA Uniform Act on Cooperatives. Governments and development partners should work on creating Cooperative federations for SeGaBi where they can harmonize Good Agricultural Practices (GAP) and build trade networks, and pest and disease control mechanisms.
Thirdly, market information and trade support network are the cornerstone for the establishment of a unified SeGaBI cashew Market. Market information is vital for traders- to know product source, producers-demand, and price- government for policy development. The SeGaBi cashew sector can borrow from horticultural value chain development, where market platforms have been developed to facilitate trade. Market information platforms should not only deal with volumes of supply and demand, but should also incorporate the geo-referencing of farmer fields. This will go a long way in creating access to financial credit by banks and fiduciary institutions. In furtherance to strengthening market information, creating awareness on trade support networks' role cannot be over-emphasized. Trade support institutions such as the Chamber of Commerce and Investment Promotion Agency can play a critical role in advancing an integrated market. For instance, the Chambers of Commerce are the guarantors of the Ecowas trade liberalization scheme and, therefore have a list of registered business entities and traders who can be designated as cross borders traders in the cashew sector. So, Chambers of Commerce can exchange information between themselves in terms of product origin, RCN traders, as well as collective bottleneck experienced in the cashew trade and devise solutions. The investment Promotion Agency can agree to come up with common market branding for RCN production in SeGaBi.
In conclusion, regional trade is indispensable to the economic growth and development of the cashew value chain. The SeGaBi-Single Cashew Market is a rising tide that lifts all boats. Developing an integrated market in the cashew value chains can reduce the risk of significant price differentials of RCN within SeGaBi region; curb informal trade of RCN; entice value addition through investment in processing firms. Thus, in God We Trust and Integrated Markets.
Mr. Kabba Baldeh
Regional Government Liaison &
Lead-Policy Officer
USDA/LIFFT-Cashew Project
Shelter for Life International
References
https://thepoint.gm/africa/gambia/article/gambia-river-basin-cashew-value-chain-enhancement-project-cep
https://allafrica.com/stories/201603021290.html#:~:text=Patricia%20Alsup%20has%20disclosed%20that,to%20major%20animal%20feed%20producers.
https://www.wto.org/english/tratop_e/tradfa_e/tradfa_agreeacc_e.htm
https://www.wto.org/english/docs_e/legal_e/tfa-nov14_e.htm