MR.  ZAKARIA GUEYE, PRESIDENT OF THE FONI BINTANG COOPERATIVE PRAISES THE MERITS OF THE COOPERATIVE
Back in the village after a few years abroad, the former migrant sees his business increase.
The Foni Bintang cooperative was created in 2002 and has 650 members, including 100 women and 550 men. Like the other cooperatives supported by the LIFFT Cashew project, Foni Bintang is also facing organizational difficulties in both commercial and administrative areas.
According to Mr. Zakaria Gueye, since their creation, they have never managed to make a collection and a grouped sale at the scale of the cooperative. It was a complete mess; buying and selling were done in a jumble.
It was not until 2020, after working with the LIFFT Cashew project in the "Access to Finance" and "Cashew Market Association" activities, that things started to move in the right direction. The cooperative was able to obtain a guarantee from the banks through LIFFT Cashew, which allowed them to purchase nuts and resell them.
In just (03) three months, the cooperative made more profit than expected (72) Seventy-two tons.  After paying back the money, they got (56,000) fifty-six thousand dalasi in terms of profit.
Therefore, on behalf of the cooperative, he thanked the LIFFT Cashew project implemented by Shelter For Life International in The Gambia, because they got more results than expected.
Our experience with Shelter For Life International in the LIFFT Cashew project has allowed us to exist as a cooperative. Members are finally seeing the benefits of cashew through good organization.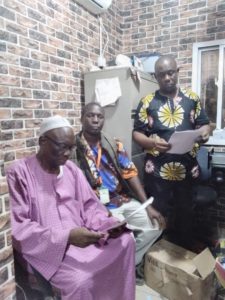 « The LIFFT Cashew project funded by USDA and implemented by Shelter for Life International supports Senegal, The Gambia and Guinea Bissau (SeGaBi) in the integral development of the cashew value chain. The organization of cooperatives and their transformation is an important axis to ensure the sustainability of the activities promoted by the LIFFT Cashew project. »